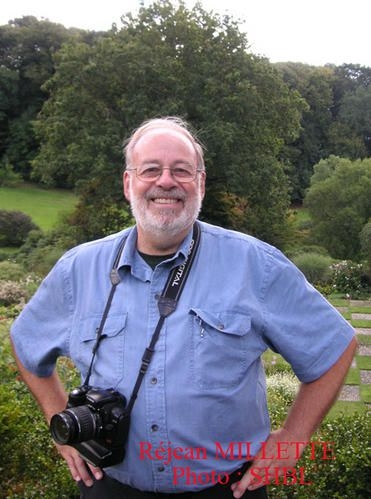 Millette Réjean D.
A few years ago, Reggie Millette was "zero" in gardening. He was a novice and learned "on the job", making mistakes and correcting them, after taking lots of pictures. After his first book on hostas, others followed: daylilies, then irises in 2007. A second book, on hostas, has also been published in French and English. He has contributed to several magazines across the Atlantic, given hundreds of conferences and hosted nearly 350 radio shows. He was the founding president of the Quebec Society of Hostas and Daylilies.
Thanks to all the photos he took for the publication of his books, as well as all the other photos taken in various botanical and private gardens, all over the United States, Canada and several other countries, he created Millette Photomedia.
Since its creation, it has recruited more than a hundred Gardener photographers from all over the world.
46200 - Heuchera Regina (Coral Bells) (1)
46199 - Acer Yezo Nishiki (Japanese Maple – érable japonais)
46198 - Mentha piperita (Peppermint - herb) (8)
46197 - Ocimum Cannelle (Basil)
46190 - Dasylirion longissimum (Mexican Grass Tree) (1)
46188 - Elaeagnus Limelight (Russian olive) (3)
46187 - Elaeagnus Limelight (Russian olive) (3)
46146 - Solanum Adelin Morin (Tomato vegetable - tomate) (2)
46145 - Solanum Adelin Morin (Tomato vegetable - tomate) (2)
46143 - Amaranthus Golden Giant (Amaranth) (2)
46142 - Zinnia Queeny Lemon Peach (Zinnia) (1)
46131 - Rhamnus Fine Line aka Ron Williams (Buckthorn) (14)
46130 - Berberis Nana (barberry)
46129 - Cordyline Torbay Dazzler (False Dracaena) (3)
46128 - Acer Butterfly (Japanese Maple) (9)
46127 - Heuchera Grape Soda (Coral Bells) (2)
46106 - Zinnia Queeny Lemon Peach (Zinnia) (1)
46011 - Solanum Ukainian Purple (Tomato vegetable - tomate)
46010 - Physalis Golden Husk (Ground cherries) (3)
46009 - Physalis Golden Husk (Ground cherries) (3)
46008 - Physalis Golden Husk (Ground cherries) (3)
45997 - Solanum Apero (Tomato vegetable - tomate)
45996 - Solanum Dufresne aka Savignac (Tomato vegetable - tomate) (6)
45995 - Solanum Dufresne aka Savignac (Tomato vegetable - tomate) (6)